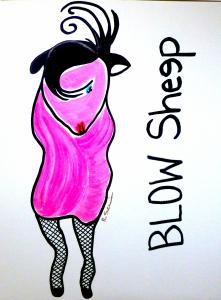 Itís another gloomy day in LA, but this time around, I feel much better. Iím enjoying being home and being creative.

Over the weekend, I finished reading Will Ellsworth-Jones book about street artist, Bansky, The Man Behind The Wall. Itís definitely left me feeling inspired about doing street art. However, in the last chapter, the critics come to disagree about Bansky. Is his work too accessible? What you see is what you get. Does art need to be complicated and full of hidden meaning? I donít think it need be. Rikka Kuittinen of the V&A Museum in London said it perfectly; ďÖI think contemporary art, sometimes unfairly, has this reputation of being difficultÖI donít think accessible means bad at all.Ē Over the years, I've spent doing art that is uncomplicated; I donít see the need for it to be. With life already being a challenge, I canít imagine adding any more complication.

This morning, I started reading an Isabella Blow biography by Laruen Goldstein Crowe. Iím only a few pages in. The book immediately starts off with Phillip Treacy and McQueen attempting to figure out what to bury Ms. Blow in. Other than being a fashion icon, I donít know much about her life. Iím curio to find out, if at all, what lead her to commit suicide. The piece here is my Pink Sheep inspired by Ms. Blow. Those who have the courage to live life according to their vision inspire me. Cheers to you Ms. Blow for being unique; itís beautiful to be different.

Leo Tolstoy once wrote, "There is no greatness where there is no simplicity, goodness and truth." Ah yes, words to live by and to use creatively. Have a beautiful week ahead. Keep it simple.