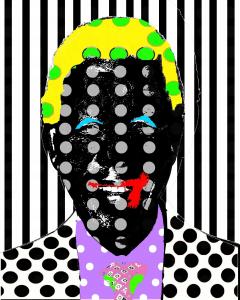 Sometime this week, possibly tomorrow, I'll be starting my art campaign titled 'Free Ricky." I immediately thought of 80's song 'Free Nelson Mandela' by Special A.K.A. But, it was more than just a song: it became a slogan against apartheid.

In no way could I possibly compare this art campaign to Mandela's Freedom. But in some way it's still freedom nontheless and in this case it's also about free art. For however long it takes, I will be tacking on 1,013 signed mini prints onto trees, mostly around my Miracle Mile neighborhood. Because I'm a little odd, I've chosen an odd number. I like 13 and so far 2013 has been a very good year. I like the idea of free art on trees. Shel Silverstein's The Giving Tree inspires it. Every time I walk by a tree stump, I think of this beloved story and I'm reminded of how much more I can give back.

I'm curious as to how the project will evolve, if at all. In some way, it's a 'pre' prequel to a bigger art project in mind. I have my work cut out for me, and though it feels a little impossible, it also feels possible. It's with this little grain of possibility that I'll move onward. Nelson Mandela once said, "It always seems impossible until it's done." And as much as I'll appreciate the journey of of this bigger project, I'll look forward to looking back once it's done and knowing I believed it's possibility. He also said, "There's no passion to be found in playing small- in settling for a life less than the one you are capable of living." As I write, these words have brought tears to my eyes because I have played small in many ways and I can't no longer. I want to play bigger than I can dream for myself. And this to me is freedom.

The piece featured here is from my LITTLE Pop portrait of Nelson Mandela. Thank you Mr. Mandela for being the man that you are, for the inspiring our world.

Always remember to give back, to give freely. Have a beauty of a beauty of a week.