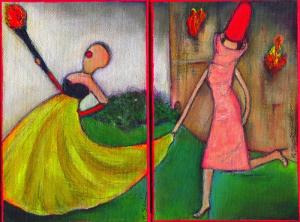 Happy Friday and here's to the 3 R's: Reading, Riding and Rules.

After 4 years of not belonging to a gym, I finally decided to join again. After 20 years of belonging to a gym, I called it quits, mostly because of the 'gay vanity' crap that our gay culture is so consumed by: youth, body, and looks. I couldn't take this idea of having to fit into a mold of perfection. I had to break the rules in some way.

I decided to rejoin because, aside from walking and little workouts at home, I needed a change of pace. I'm mostly looking forward to reading books while riding a stationary bicycle; it felt good this morning. For 45 minutes I cycled and caught up on reading Alexander McQueen's biography. It's been cool to read his biography and later Youtube the fashion shows being referenced.

Alexander once said, "You've got to know the rules in order to break them." I loved this! Not so much because I like breaking rules, because I actually do follow the rules, but rather because I like making my own set of rules. It makes life more interesting and I live according to who I am, me. My little sister Blanca once referenced it as being 'Ricky's world.'

The piece featured here is from my artist inspired "Little Girls" series. It contains two seperate canvases; it's titled "Light My Fire." It's inspired by David LaChapelle's photograph of both McQueen and Isabella Blow. It was she that really took him under her wings and introduced him into the fashion world.

Thank you Ms. Blow and thank you Alexander for breaking the rules so beautifully.

Have a great weekend and cheers to breaking rules even if they're your own, especailly if they're your own.